The breakdown of a marriage can be difficult, and navigating the steps of legal separation in Ireland is something that no couple can ever be truly prepared for.
Often a complex and emotionally charged process, legal separation is the first stage in ending a marriage. For couples considering this significant step, it's crucial to be well-informed about the intricacies involved.
In this article, we share some insights into legal separation in Ireland, aiming to help couples in the preliminary stages of contemplating this option.
Understanding legal separation in Ireland
Quite simply, legal separation is a legal arrangement that allows couples to live separately while remaining married.
It's important to note that there are two options for separation. If both spouses can agree on the terms of living separately, then they enter into a separation agreement. However, if the couple cannot agree, either spouse can apply for a decree of Judicial Separation which is an order of the court.
There's one glaring difference between legal separation and divorce. In a legal separation, the marriage is not terminated and the couple remain legally married. With divorce, the couple cease to be married, leaving both parties free to remarry if they wish.
Why some couples opt for legal separation over divorce
While it may be clear to both spouses that their marriage is over, choosing legal separation is often the first step rather than going straight to divorce. There are many reasons why couples opt for legal separation over divorce. The most important one is that legal separation can be a temporary arrangement and is potentially reversible. This makes legal separation an appealing option for couples who are not wholly sure that reconciliation is out of the question in the future.
Some couples opt for separation due to personal reasons, or perhaps divorce goes against their religious beliefs, and there are the financial implications of divorce to consider.
Finally, it may be some time before the criteria for divorce can be met – couples must live apart for at least two out of the three years before they can apply for divorce.
Five crucial things to know about legal separation in Ireland
Eligibility criteria
Before seeking legal separation in Ireland, there are certain eligibility criteria to consider. For example, couples seeking a Judicial separation must have been living apart for at least one year before applying. It should be stated that you cannot apply for judicial separation if you already have a separation agreement in place.
Additionally, there are residential requirements to be met – at least one spouse must be permanently living in Ireland, and you must have lived in Ireland for at least one year before making the application. It's essential to consult a family law solicitor to understand these criteria fully.
Financial implications
At a time when emotions are running high, it can be difficult to talk about money. However, since legal separation involves the division of assets such as property or a business, it's simply unavoidable. There can be significant financial implications for both parties during the process, so couples need to address their property, debts, and financial responsibilities. In cases where there are children involved, maintenance obligations and child support must also be determined to ensure their well-being.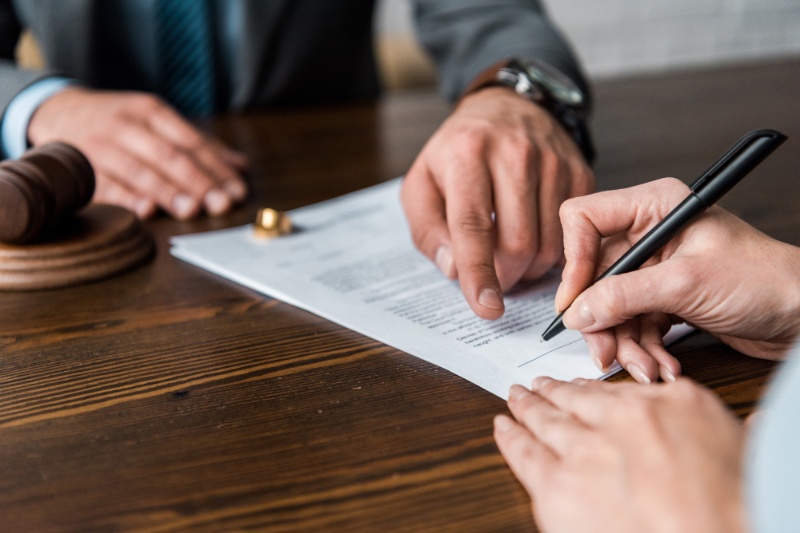 Child custody and access rights
When children are part of the equation, child custody and access rights become critical issues. Essentially, the less disruption and upset in their lives, the better it is for their well-being, so coming to an amicable arrangement is a priority. Understanding the difference between joint custody and sole custody, as well as visitation and access rights, is imperative for creating a sustainable arrangement that prioritises the children's best interests.
Implications for future relationships
When a marriage has broken down, neither party may be in the mind frame to consider remarrying again, however, a legal separation can have implications for future relationships.
Firstly, you cannot remarry if you are legally separated – this is only possible following a decree of divorce.
Potential consequences for cohabitation also need to be considered, particularly when there are children involved. A thorough understanding of these aspects can help couples plan for their post-separation lives.
The importance of legal representation
Navigating legal separation can be complex and emotionally challenging. That's why it's essential to have expert legal representation by your side. Having an experienced ally on your team will ensure that you're making decisions for your future with clarity rather than being clouded by the emotions that come with the breakdown of a marriage. Furthermore, your family law solicitor can guide you through the mediation process, facilitating a more amicable resolution between you and your spouse. The more you can agree on with your spouse outside the court, the less costly it will be in the long run.
Preparing for the legal separation process
If you're contemplating legal separation, it's crucial to prepare yourself for the journey ahead. Consider asking your solicitor key questions about the process such as these commonly asked queries:
What are the costs involved in a legal separation?
How will mediation help in the process?
What will happen to the family home?
What are my options in my current situation?
How will custody and access arrangements for our children be worked out?
How long will the process take?
Additionally, it's essential to recognise the emotional and psychological toll that legal separation can have on individuals. Don't be afraid to seek professional support through counselling as you navigate this emotional journey.
Summit Law are your experts on legal separation In Ireland
Taking the first step in ending a marriage is a significant decision that requires careful consideration, particularly when you consider the potential long-term effects on your life. The complexities involved with separation, both legally and emotionally, make it essential to seek expert guidance. Having an experienced family law solicitor on your side ensures
that you are making informed decisions for your future.
At Summit Law, we understand the gravity of taking such a step so you can count on us to guide you through this emotional journey. Our team of Family Law solicitors can provide you with the knowledge and support needed to resolve, ensuring that your rights and interests are protected every step of the way.
If you're ready to begin this journey, you don't have to do it alone – contact us today. Make sure to also take some time to look through our blog and resource pages for more about the legal services provided by our practice.